Our 2017-18 schedule has been announced and tickets are now available!
To keep informed of concert and event announcements, subscribe to our mailing list.
Nov
24
Sat
Wingspan

@ Glenn Gould Studio
Nov 24 @ 7:30 pm – 9:30 pm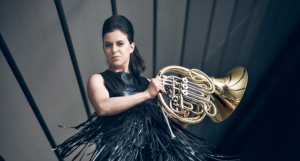 Join the TCB for its fifth anniversary season, which will feature three concerts downtown:
Our November 24th concert features the Canadian Premiere of Gary Kuo's Wingspan, introduced in person by the composer and performed by horn virtuoso Olivia Esther, Respighi's The Pines of Rome, the works of Roland Barrett, J. S. Bach, G. F. Handel, Toto, The Who and more!
Two other concerts will be held this season, including Saturday, February 23rd, 2019 at 7:30pm at Metropolitan United Church, in a special joint performance with the Etobicoke Youth Band, and our fiftht anniversary concert on Saturday, June 15th, 2019 at 7:30pm at Glenn Gould Studio.
Feb
23
Sat
Music at the Met: TCB+EYB

@ Metropolitan United Church
Feb 23 @ 7:30 pm – 9:30 pm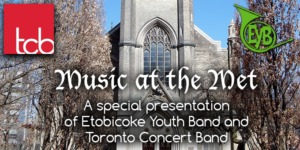 Join the Toronto Concert Band for a special joint performance with the Etobicoke Youth Band at Toronto's glorious Metropolitan United Church in the heart of the city, at Church Street & Queen Street East. Each band wil perform on its own, and will then combine for a grand finale of nearly 200 musicians on stage to close the concert.
The bands will perform favourites including Jacob de Haan's Ross Roy, John Williams' famous theme from Superman, excerpts from Les Misérables, Debussy's Engulfed Cathedral, and much more.
About the EYB
The EYB was formed to give music students the opportunity to play an enriched repertoire of music, from the classic band repertoire to marches to pop music. This dynamic group of young people has performed throughout the community and annually competes with distinction in a prominent music festival, receiving a first-place standing at the Kiwanis Music Festival in Toronto. The EYB consists of well over 100 members, who  range in age between 12 and 18 and attend different middle and high schools in Toronto.
About the TCB
The Toronto Concert Band's mission is to enrich the lives of local musicians through excellence in professional leadership, performance opportunities and carefully selected repertoire, fostering development of musicianship in a positive and supportive environment; and to enrich the lives of community members with music performance of high artistic quality, broad appeal, and educational value in an inspiring environment. TCB consists of 85 amateur musicians from Toronto.
Jun
15
Sat
Fifth Anniversary Concert

@ Glenn Gould Studio
Jun 15 @ 7:30 pm – 9:30 pm
Join the TCB for a special fifth anniversary celebration at Glenn Gould Studio in the heart of the Entertainment District.